May we introduce ourselves?
Our Staff helps us to live our Ministry into the community.
Pastor Joyce Chamberlin   has been our friend and teacher since 2007. A graduate of St. Paul School of Theology in Kansas City, MO, she has a passion for outreach and mission, as well as preaching and teaching.  She enjoys meeting new people, so feel free to come in to make her acquaintance.  While office hours vary, she is usually available Monday afternoons, as well as mornings Tuesday through Thursday.  Feel free to call for an appointment at 309-787-4661 or email at milan1st@mediacombb.net.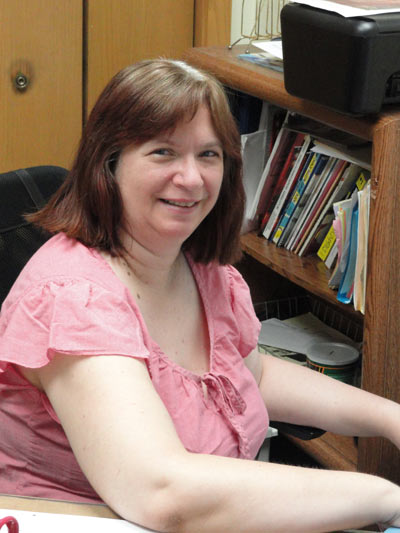 Administrative Assistant, Mary answers our phones, prepares bulletins, edits and compiles our newsletter and so much more.  Office hours will find her at the church: Monday – Friday, 8:30 AM – 12:00 Noon and 1:00 PM – 4:30 PM.  Mary can also be reached at 309-787-4661 or milan1st@smediacombb.net.
Music Director and Organist, Charla is responsible for helping us sing our faith in multiple ways.  She directs our choir and hand bell ensemble, organizes a children's chime group, provides wonderful meditative music for worship and accompanies our singing throughout the worship service.  Charla is always looking for new voices to add their harmony to our choir and new bell ringers to bring another octave into our bell choir.  Charla can be reached at milan1st@smediacombb.net.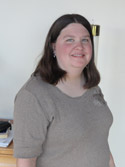 Sunday School Coordinator, Laurie Lyon is responsible to direct our children's Christian Education, directing teachers, arranging for fun opportunities to learn the stories of faith and providing a few celebrations and parties along the way.
milan1st@smediacombb.net.
Youth Director, Abbie Nicolai leads our youth group to encounter Jesus through fun activities, mission outreach, learning and fellowship. There is always food involved, as well as a bit of craziness as we learn about what it means to be a follower of Christ.
Custodians of our building are Kent and Colleen.  This hardworking duo keeps our structure neat and tidy. They work hard to make sure we have what we need for our ministry efforts. 
How is our congregation organized?
Presbyterians see the power and wisdom of God as the gift of the Holy Spirit that arises when committed disciples gather to seek Christ's discernment.  Therefore our leadership is by "committee".  Our governing board is called the "Session." Session is composed of "Elders" who are elected by the congregation to staggered, 2 year terms of office. The pastor is the moderator of session with equal vote to  other members. Session meets monthly to take care of the business of the congregation. Each Elder has responsibilities on committees that are composed of members and attendees of our congregation. Together they direct the various ministries of our congregation.
Deacons are the outreaching, nurturing arm of our congregation. Our Board of Deacons are elected by the congregation. They prepare the table for Holy Communion each month, visit our shut ins, take flowers, or reminders of our care to those in need, as well as serving funeral lunches to grieving families.  This remarkable group is always quick to offer their assistance in the many events of our congregation that helps to lift others into God's remarkable love. The Deacons also fund our participation in the Milan Assistance Fund, an effort of multiple churches in the Milan community that offers care to those in need. This fund is administered by the Blackhawk Township Office. 
We are a congregation of Great Rivers Presbytery and Lincoln Trails Synod. The Presbyterian Church USA is our parent denomination.
We are also proud to be the partner of Just Kids Early Education Center.  Just Kids 2 is housed in our building, providing high quality care for elementary children before and after school and when class is not in session. Spring Forward Learning Center is an important part of our ministry outreach to the community. We are the second of three campuses to provide space and volunteers to Spring Forward Learning Center. Through this partner we invite 32 youngsters into our building each week to help them achieve academic success and social skills. First Presbyterian Church is an enthusiastic member of Churches United of the Quad Cities. We support these joint ministries that seek to offer nutrition, care and the hope of Christ into our community.
A few words about our history.
The First Presbyterian Church was organized in Camden, Illinois (which later became Milan) on April 5, 1845. There were fifteen founding members. This congregation was the vision of one man, Elder William Dickson who arrived here from Erie, Pennsylvania. He laid out the town in 1843, and constructed the first church building by himself. It was completed in 1846. By 1868 the congregation had outgrown the building so Mr. Dickson donated the land for the second church to be built in downtown Milan, two blocks away from the original site.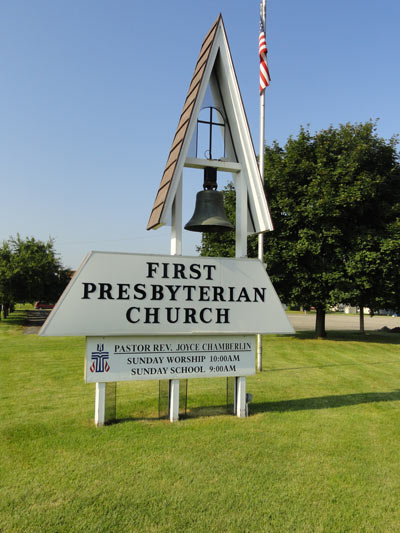 In the mid-1960s  a third church was erected on a frontage road off Highway 67 in Milan, Illinois. The move to this, our present church, took place in September 1967. They opened the Sunday worship in the old church, and moved as a caravan to the new building to finish the worship service. The Dickson family presented a 600 pound bell in 1868 which still rings in front of our church today. A pipe organ was added in 1894, and finally wore out in 1989. An electronic organ replaced it, but the pipes from the original organ still stand at the back of our sanctuary today.
Please join us each Sunday for Worship and Sunday  School.


10:00 Worship - all ages welcome
10:15 Children's Sunday School begins after the Youth message in worship. (2nd - 5th Sundays of the month.)
The Lord's Supper is celebrated on the first Sunday of the month. On this day all children are invited to be a part of the worshipping community of faith and share in this gift of Christ. Our sacrament of communion is open to all who proclaim the Lordship of Jesus Christ.
11:00 Coffee and cookies - Fellowship for all. Guests are encouraged to stay and share with us this opportunity for growing the bonds of mutual affection.

Prayers are sent daily to our members and others who sign up to receive them. Below is the offering for Thursday, Sept. 8.
Sample Prayer
For more information about our partner organizations, check out their websites below.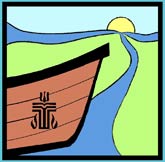 Great Rivers Presbytery


Presbyterian Church USA
Just Kids Early Childhood Education Center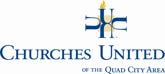 Churches United of the Quad Cities
Remember
Spring Forward Learning Center
Please check our pastor's blog for more information on our mission trip adventures.